RPi Power Consumption
Raspberry Pi Mass Storage Power Consumption
As described in my original twitter thread…
How do mass storage devices impact power consumption of Raspberry Pi?
I wanted an idea of UPS runtime, so I scripted a benchmark to run at boot: - write 100x 128MB files - flush cache w/1GB file - read 100x 128MB files - shutdown
Measure duration, energy consumed, etc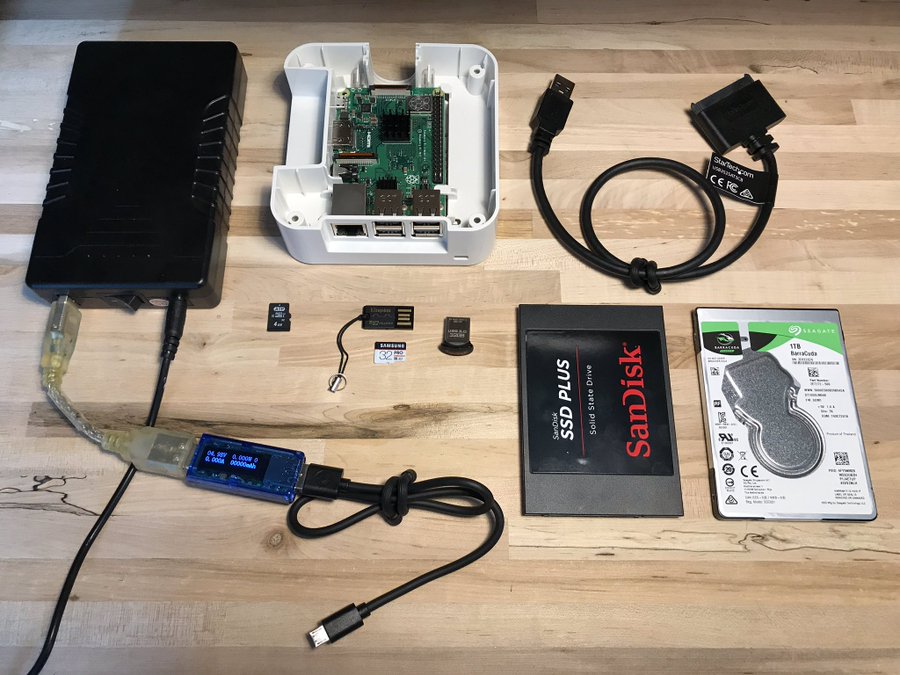 Testbed
Raspberry Pi 3B+
ATP aMLC 4GB microSD
Raspbian Stretch Lite 2018-11
TalentCell 12V6Ah/5V12Ah DC UPS
Drok USB multimeter
StarTech USB-SATA cable (connected as needed)
Devices Tested
Baseline: Raspbian idling, no mass storage
USB microSD: Samsung Pro Endurance 32GB + Kingston adapter
USB flash: SanDisk Ultra Fit 32GB
SATA 2.5 HDD: Seagate BarraCuda 1TB
SATA 2.5 SSD: SanDisk SSD Plus 480GB
Results
Baseline (idle): 12m 47s, 431 mWh
USB microSD: 36m 24s, 1475 mWh
USB flash: 21m 39s, 1115 mWh
SATA 2.5 HDD: 14m 49s, 1376 mWh
SATA 2.5 SSD: 12m 47s, 840 mWh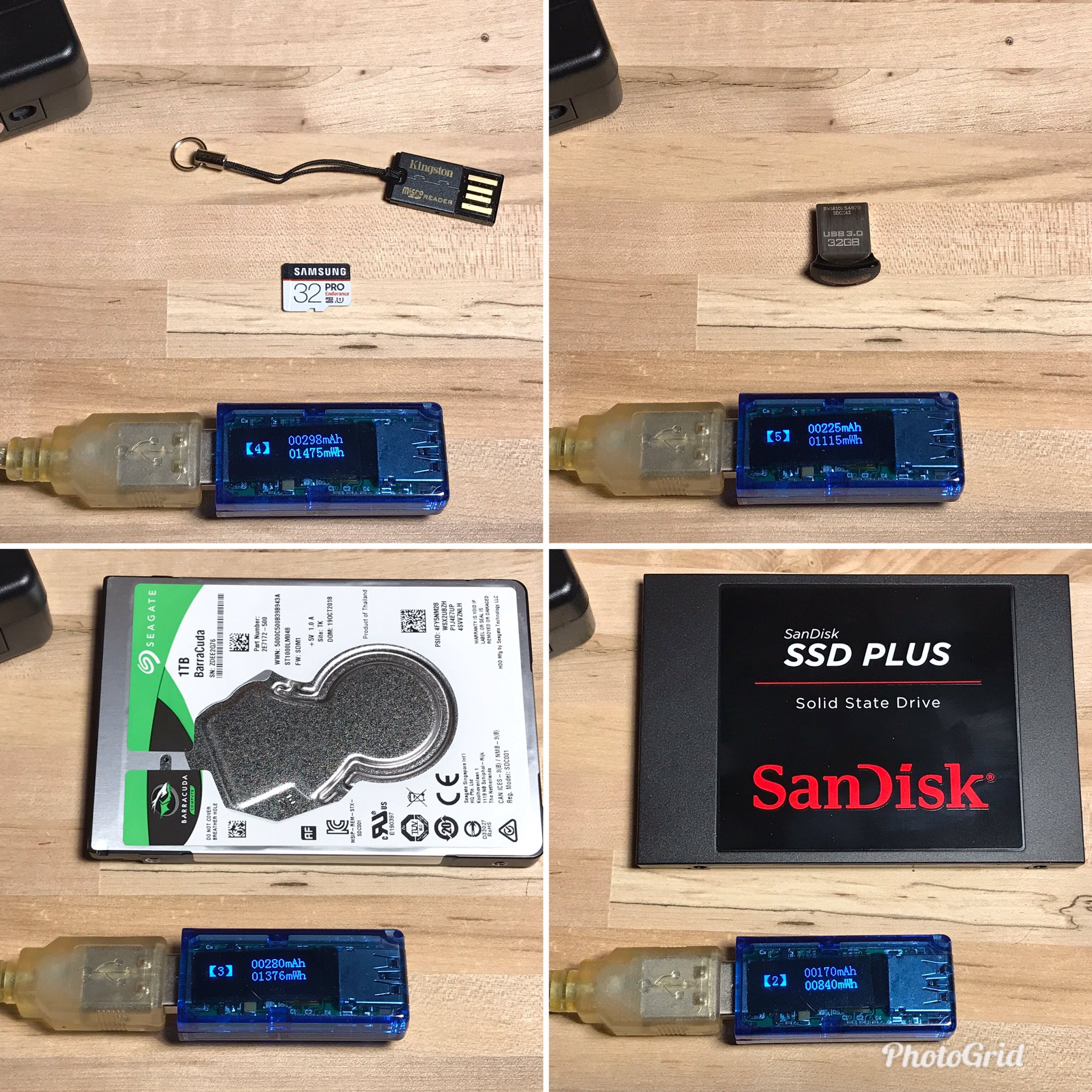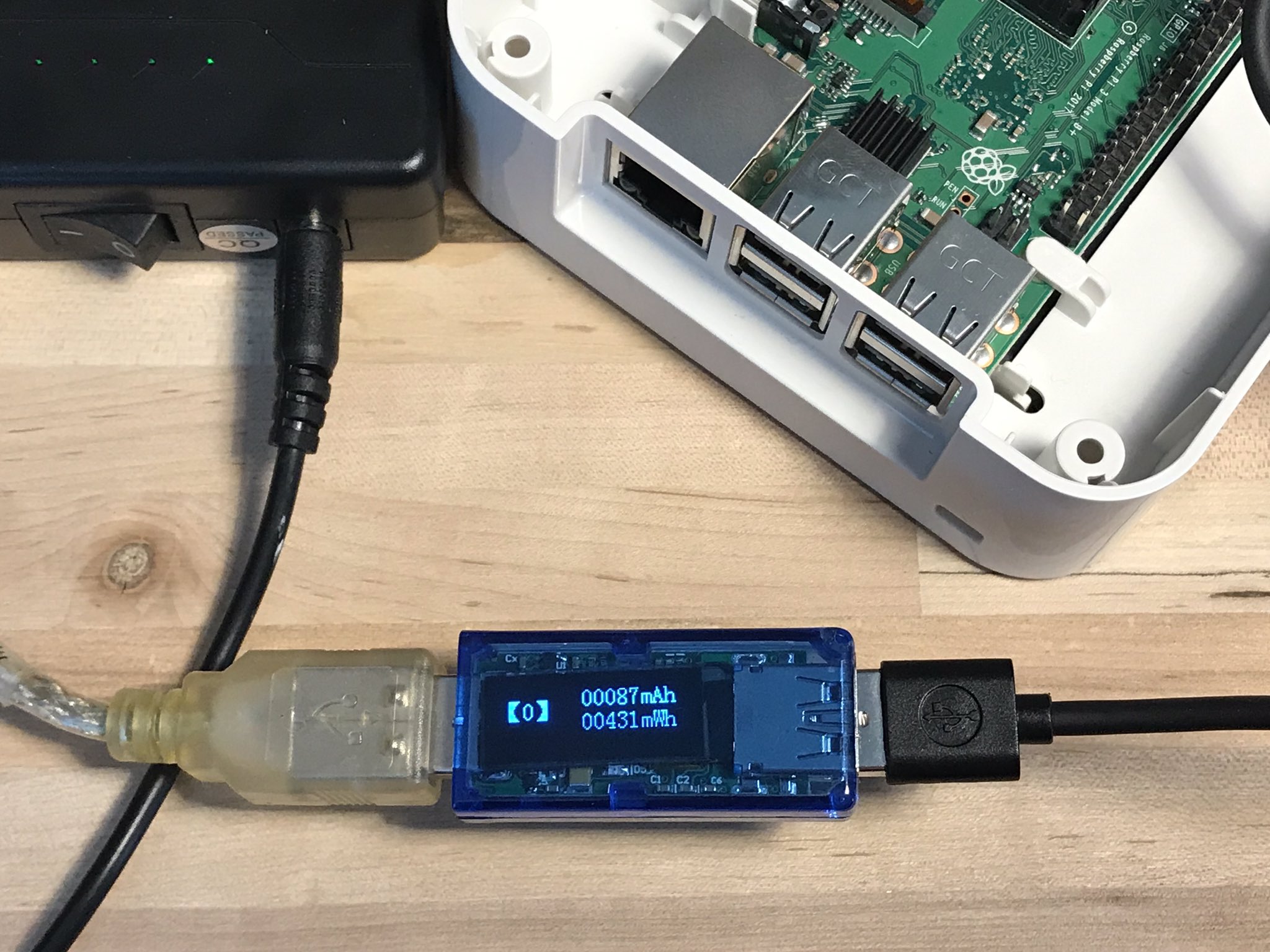 Conclusion
SSD provides significant improvement to efficiency & speed. Best choice when budget and physical space allow.
For lower budgets or compact form factor, USB thumbdrive is the best compromise.
SD card is slowest and least efficient, avoid when possible.
Metrics
Baseline (idle)
Duration: 770 sec
Energy: 431 mWh
Mean xfer (r/w): 10.9 / 18.06 MB/s
Mean freq: 610 MHz
Mean temp: 47.6 C
USB microSD
Duration: 2000 sec
Energy: 1475 mWh
Mean freq: 620 MHz
Mean temp: 47.6 C
Mean xfer (r/w): 18.1 / 10.9 MB/s
USB flash
Duration: 1280 sec
Energy: 1115 mWh
Mean freq: 636 MHz
Mean temp: 48.3 C
Mean xfer (r/w): 36.8 / 15.9 MB/s
SATA 2.5 HDD
Duration: 900 sec
Energy: 1376 mWh
Mean freq: 636 MHz
Mean temp: 45.7 C
Mean xfer (r/w): 35.2 / 28.2 MB/s
SATA 2.5 SSD
Duration: 770 sec
Energy: 840 mWh
Mean freq: 704 MHz
Mean temp: 46.9 C
Mean xfer (r/w): 37.6 / 35.0 MB/s